Starting a new business can be one of the best decisions you make throughout a career, with many great benefits associated with going out on your own and building something from the ground up. Of course, there are inevitably risks and drawbacks associated with giving up your existing employment and gambling on a new venture, but one of the best ways to minimise risk while maximising potential gains is to invest in an established franchise.
If you are currently considering opening a new gym business, becoming a franchisee could be the perfect option for you. Below you will find 7 of the best reasons why opening a gym franchise in Australia is an excellent option for those looking for a new chapter in their lives.
Unlike some start-up ventures, a new gym franchise does not have to deal with overcoming considerable barriers to entry. Even those with limited existing knowledge of gym management can learn everything they need to know during their training, and initial costs and outlays are fairly low. Consequently, gym franchises are a safe and solid investment for everyone from experienced health and fitness professionals with plenty of capital behind them to those who are completely new to the industry.
Tested, Established Business Models
Once you have found the right franchise for your needs and preferences, you simply need to pay the relevant investment fees and you will obtain access to all the training, marketing, resources and support you need to make a success of your new business. Rather than having to come up with a new business plan and build a customer base from scratch, you will be able to make use of tried and tested plans and procedures while also benefiting from existing awareness of your brand amongst potential customers.
Lots of businesses see demand for their products and services fluctuate according to the seasons, making some periods throughout the year considerably harder to navigate than others. Gyms are in the fortunate position of being largely unaffected by this issue, with people seeking to build and maintain positive fitness habits regardless of the time of year. As a result, gym franchises can expect a regular flow of customers all year round.
Various Streams of Income
One of the most common problems encountered by small businesses is over-reliance on one particular source of income. If for whatever reason demand for this product or service dwindles, life can quickly become extremely difficult. Whilst gym franchises tend to rely moderately on their membership fees for their income, there are also a great number of other ways to build multiple income streams – group classes, personal training and fitness merchandise, for example – which help to provide maximum financial security and sustainability.
Meaningful, Rewarding Work
Running a gym franchise is a great way to make money doing something you love, but it is also the ideal career choice for anyone who wants to feel like their daily work is making a positive difference in the lives of others. By providing the equipment, resources and support people need to improve their physical and mental well-being, your gym will serve as a genuine asset to your local community.
If you are someone with big ideas and a real passion for what you do, opening a gym franchise will give you the precious opportunity to be your boss, enjoying the freedom and responsibility associated with being at the helm of your own business.
Enviable Work-Life Balance
By choosing to start up your own gym business, you will be acquiring a highly desirable work-life balance. Whilst there will be plenty of hard work ahead of you, you will nonetheless enjoy the freedom to arrange your working hours around your other commitments and plans, ensuring you are always able to prioritise the things that matter to you while also running a thriving and successful organisation.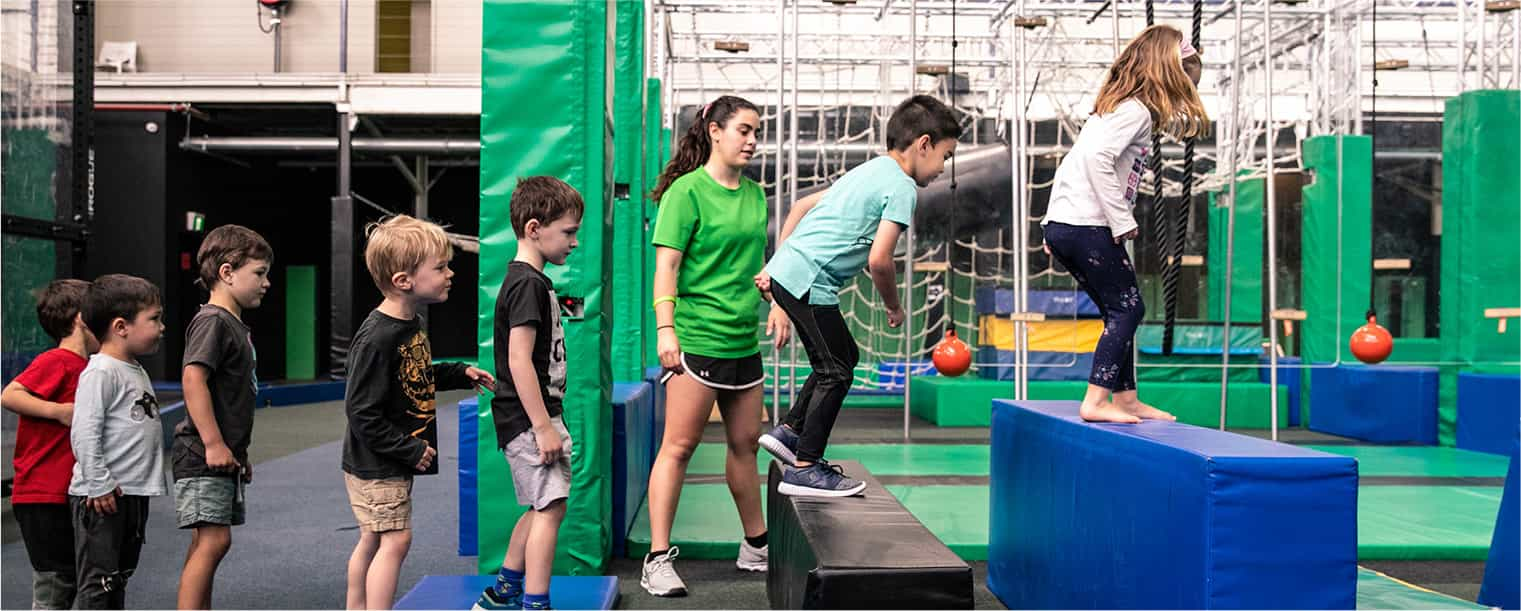 Why Ninja Parc Could Be the Right Franchise for You
If you are looking for an alternative to your normal gym franchise opportunity in Australia, there are a variety of possible routes you can take. One of the best options could be to get in touch with a member of the friendly and helpful team here at Ninja Parc. We specialise in providing excellent fitness franchise opportunities for those people who are interested in helping children in their local areas to stay active and improve their overall health and well-being.
As a locally owned, Australian firm with many years of experience in the industry and a strong established client base, we can make it possible for you to ensure that the next big step in your career and life provides you with long-term success, independence and real job satisfaction.
All you have to do to get started is fill out the convenient online form available on our website. A member of staff will then send you a useful franchise information pack containing lots of detailed, practical and relevant information. Before long, you could be running and managing your own children's fitness franchise at a state-of-the-art new location near you!