Ninja Parc Base is a brand new downsized, lower-cost offering of the traditional Ninja Parc business model, and it's available to franchise buyers now.
Introducing a smaller footprint business option will keep the brand within reach of more potential franchisees, said Ninja Parc CEO John Pirlo, who launched the original brand back in 2017.
"This change will make Ninja Parc accessible to more franchisees, giving them the confidence to launch an obstacle course under the well-known Ninja Parc brand," he said.
The new model is an ideal option for regional areas.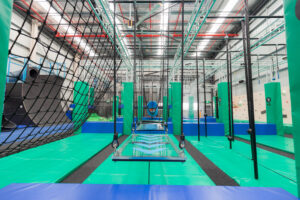 Ninja Parc has locations in Melbourne, Newcastle and Townsville. This new business model fits into a smaller footprint with a lower-cost entry point than a full-size site.
"Ultimately this allows us to grow the brand more quickly and give more children across Australia a fun way to get moving," said John, who is confident that membership for the obstacle-course-based leisure and fitness experience will grow this year.
"We're seeing strong numbers at our existing sites and as lockdowns fade to a distant memory, kids are keen to get back to activities. Ninja Warrior 2022 will also heat up the demand."
Instead of requiring a 1200m2 space, the Ninja Parc Base model can fit into a 500m2 site. Franchise buyers can expect a total investment cost from $400,000.
Casual options like children's birthday parties and casual play are an important element to the Ninja Parc model, providing multiple income streams for franchisees. There is also the opportunity to convert these customers into members who attend weekly kids and adult group classes.
As Australia's largest indoor obstacle course provider, Ninja Parc attracts hundreds of thousands of individuals and families. Learn how you can become a Ninja Parc franchise owner – www.ninjaparc.com.au/franchise-opportunities/
Read article in Franchise Business.
Interested in learning more about franchisee opportunities? Fill in your details to receive your free franchise information pack.